B2 Sheet Stacker
Sheet stacker description.
Our Stackers are designed with the print finishing industry in mind they are therefore able to cope with all manner of materials, from thin papers to heavy card, plastics or other composite materials..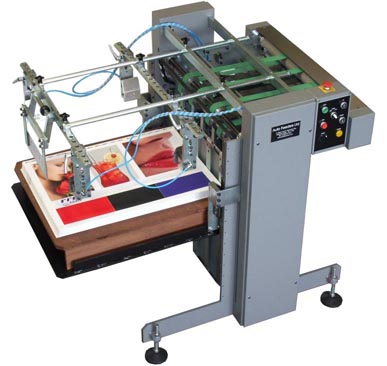 Machine size 1250 long x 100 wide x 1050 high( depending on feed height)
Max sheet size 710mm long x 600mm wide
Min sheet size 140 long x 200 wide
In Feed height to order
Machine Weight 500 Kg.
Maximum Speed 6000 sheets per hr. Subject to type of substrate and condition
The stacker is a freestanding self-driven unit. It automatically reacts to the incoming sheets, opening and closing the side jogger blades to accept the sheet.
Sheets should always arrive with gaps between them; the stacker speed can be adjusted to achieve this.
Maximum speed = 6,000 sheets per hour depending on material size and suitability. For higher speeds or for sheets over 500mm long and of heavy materials we recommend that sheets are shingled.
A forwarding flow of air is switched on under the incoming sheet to carry it to the backstop. The forwarding air is then switched off and replaced with a down blast of air along the trailing edge. The down blast assures that the trailing edge is pushed down before the next sheet arrives. Because of this cushion of air is created which means that the top few sheets of the stacked pile are always "live" which enables them to be jogged into position even when the sheets are coated with non-slip coatings. The side joggers are each operated with vacuum and air pressure through a single tube connection which gives a very fast response time to the incoming sheets. Rear jogging fingers along the trailing edge assures that the sheets are pushed against the backstop. The backstop is hinged and can be lifted to remove a single sheet if required.