Home
Machinery specialists to the printing, packaging and labeling industries. The main area of business is the manufacture of machines, mainly relating to paper feeding, stacking and related processes.
We specialise in: Paper Handling Machinery & Labeling Equipment
Products include: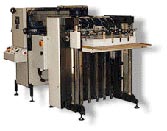 Gluing

Folding

Automated Inspection

Vacuum Conveyors

Sheet Inserters

Sheet Feeding

Sheet Stacking/Delivery

Sheet Transport Systems

Label Feeders

Automated Inspection

Automated Inspection
Our machines are built to the highest of standards, meeting with health and safety requirements and bearing the European CE mark.
As well as supplying standard machinery, we are always willing to adapt our standard machines to meet your exact requirements.