Shingling Unit
Mobile Sheet Stacker & Shingling Unit for longer sheets / high speed Stacking.
Stacking individual sheets at high speeds becomes difficult as the sheets are free to "fly".
This is especially the case with light stock.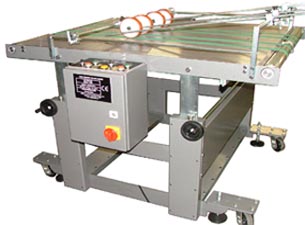 On the other hand heavy stock can be difficult to stop at high speeds. The shingling unit slows down the sheets and forms them into an over-lapped shingle and then pass the sheets into a stacker, or they can be scooped up by an operator. The unit can be supplied along with our mobile stacker or as a free standing unit.
The sheets are feed onto a slow running belt forming a shingle. The slow moving shingle is a lot easier to form into a pile than with individual light sheets or heavy large sheets that would otherwise be difficult to stop without damaging the front edge. This increases the stacking speed up to 12,000 sheets per hour (depending in sheet size).
Comprising of an all steel construction finished in stove enamel paint, colour to your choice, integral variable speed drive motor, mobile and adjustable in height.