Mobile Vacuum Table
Features
Belt 550mm wide X 2000mm long (1 meter, 3 metre options)
5 Vacuum chambers along the length, options to split the length into separate sections.
Option to switch the vacuum chambers on and off individually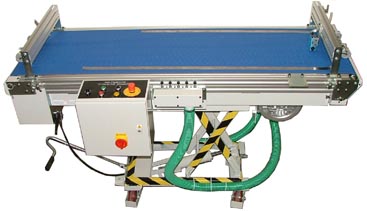 Variable speed max speed approx 70m / min
Adjustable height max 1100mm / min 560mm
Min Product is 100mm long in direction of travel X 200mm wide
Complete with vacuum blower.
Aluminium extrusion on the both sides with T slots to bolt accessories along the length of the conveyor such as: Printing Heads, Gluing Stations, and Labelling Heads etc.
Two off aluminium extrusion bridges across conveyor approx 100mm high with T slots to bolt accessories on at the input and output of the conveyor (drive wheels, encoder etc.)
Locking swivel casters
Applications Include
Direct Mail Printing
Vision Inspection
Security Tag Assembly
Packaging
Labeling
Finishing
Gluing