Inline Batch Gluer
For assembling draw tickets, raffle tickets, small pamphlets / booklets etc.
Inserting And Interleafing Additional Sheets Into The Printing Press Output.
No more hand counting and stapling together setís of Raffle / Draw Tickets, Bookletís etc.
Eliminate the bindery costs.
Specifically designed to slide under the delivery end of an existing printing Press. It not only accepts the stream of printed sheets from the host printing press it will also introduce a pre-printed sheet of thin card or paper to form a cover or backing sheet for to form Draw / Raffle tickets, etc.
Just enter in the counter the amount of tickets required in a booklet. It will then inhibit the glue on the top page of each booklet.
It will collate numbered sheets from the press into predetermined sets, by applying lines of glue dots to the sheets giving the appearance of the pads, etc being stitched together.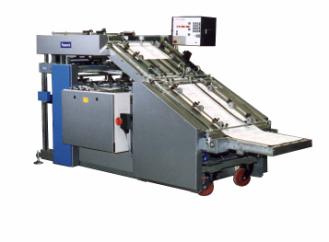 Pads, booklets, raffle/draw tickets, etc. there are many unique applications in product finishing. This example is designed to fit to a Heidelberg GTO Printing Press and automatically glues the correct sheets set by the operator.
The machine is computer controlled allowing a variable pad specification to be entered.
There is no mechanical or electrical connection to the press the machine simply reacts to the arrival of each sheet from the press. It may be wheeled away at any time and the printing press used in the normal way.
Whilst separated from the press it may be used in an off-line mode to produce booklets, etc but without the introduction of the additional sheet.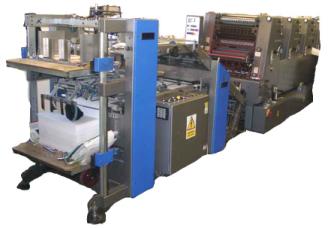 This system runs in line with a 1/4 perfector to enable four colour tickets with reverse printing to be produced in one operation, it prints, numbers, perforates, automatically inserts covers and glues into booklets.