B2 Sheet Feeder
Sheet feeder description.
B2 FRONT EDGE SEPARATION FEEDER.
With built in sidelay and drive motor. Our feeders are designed with the print finishing industry in mind they are therefore able to cope with all manner of materials, from thin papers to heavy card, plastics or other composite materials.
Specification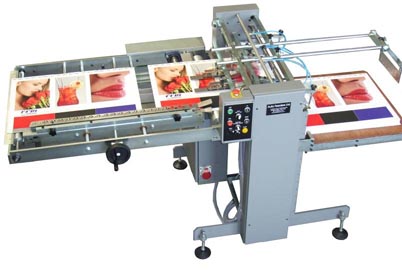 Machine size 1650 long x 1150 wide x 1250 high (depending on feed height)
Sheet size 710mm long x 550mm wide
Min sheet size 140 long x 200 wide
Feed height to order.
Machine Weight 500 Kg.
Maximum Speed 5,600 per hr. Subject to type of substrate and pile condition
Description
The front edge feeder is a self contained unit which is easy to operate and requires very little maintenance.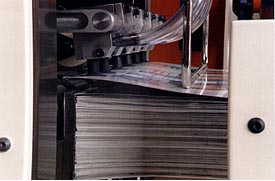 Each sheet is plucked from the top of the pile with retrieving suckers and then lifted and moved forward to the nip roller and side-lay.
Air is blown into the front of the pile to help separate the sheets (separating air). Air is then blown under the top sheet to help float the sheet whilst it is moved forward (forwarding air). All machines are built to order they may be customised to match your exact requirements.
OPTIONAL EXTRAS - Two sheet detection - No sheet detection - Counter